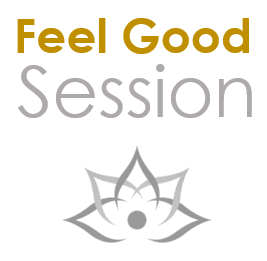 Between work, family, emails, text messages, and other everyday life obligations, you don't know where you stand anymore. You are tired, physically and mentally, to the point that you can no longer "recharge your batteries", and you're running on "empty". You don't sleep well, you have a hard time focusing, your body aches, and your excitement for things is long gone.
I have created, just for you, a Feel-Good Session to rebalance your body and calm your mind. Like a boost of energy, this session will allow you to let go, and to step back, so you can better manage your day to day life.
Two hours dedicated exclusively to You, in a peaceful, kind, comfortable and serene environment.
A three-part session:
Assisted soft muscular stretches, to relax overstressed, overworked and tired muscles.
Energy healing session to boost the energy within you, free up energy blockages, invite harmony, peace and inner well-being.
Energy massage with natural oils to re-center yourself, relax and rejuvenate.
A unique experience, surprising results, a tension reliever, a self confidence booster, a huge dose of positivity, and a reset of your energy levels.
You'll ask for more!
Energy healing sessions are in no case medical treatments or advice and do not replace medical treatments, nor medical advice. According to the law # 46.857 of April 16th 1946, the articles L 4321.1 and R 4321.3 of the "code de la santé publique" and the ordinance 2008-507 of May 30th 2008, energy healing sessions are neither medical treatments nor physical therapy treatments, but according to article 38 of the law # 2005-882 of August 2nd 2005, they provide a way to harmonize the body and mind, and improve lives through relaxation.