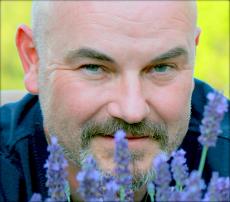 Chris Pinard
Certified Quantum Touch™ Energy Therapist & Certified Energy Massage Therapist.
Energy Therapist [Certified Quantum Touch™ practitioner] & Energy Massage Therapist [certified by IFraCE]
I channel the Universal Vital Energy and guide it toward those who seek my help, in order to restore their vibrational state and boost their self-healing abilities.
I consciously and intuitively use my knowledge, my professional experience of more than 20 years, and my protocols to improve the well being of the individual I am providing my services to. Energy healing doesn't come from beliefs or the call of spirits but is based on scientific quantum physics theories and the fact that human beings are bioenergetic beings.
My passion for human body biomechanics led me to obtain the certifications of Professional Fitness Trainer (ACE [American Council on Exercise] and ISSA [International Sports Sciences Association]) in 1996 in the USA. In 1997, I joined a group of chiropractors as a consultant in durable physical rehab. I became a Post-Rehab Conditioning Specialist in 1997 (AAHFP [American Academy of Health and Fitness Professionals]), a Certified Chiropractic Assistant in 1999 (NCCA [North Carolina Chiropractic Association]) and a Certified Fitness Therapist™ in 2000 (ISSA), and I worked with six local chiropractors while maintaining a private office.
In 2006, I joined a chiropractic office composed of three doctors (in Gastonia, NC- USA) to manage their rehab and therapeutic modalities service while keeping my private practice. In 2009, I joined a different chiropractic practice, geared more toward natural methods, to concentrate more on patients suffering from sports injuries, chronic pain, and specializing in back problems.
I have used energy healing therapy in my protocols since 1996, first through the use of the STT technique (Systematic Touch Training) for pro and semi-pro athletes rehab, and in 2009, I became a Certified Quantum Touch® practitioner. In 2011, I expanded my knowledge of natural therapies and their effects on human beings (sylvotherapy, aromachology, mindfulness meditation, earthing/grounding...).
After 26 years in the United States, I came back to France in 2017, with my wife, and we settled in the Minervois region.
In 2018, I started my energy therapy practice, Zen Minervois, in order to help you durably heal your physical and mental pains naturally. The same year, I became a Certified Energy Massage Therapist (IFraCE) in order to improve and perfect my wellness massage technique.
In 2021, I created Senteurs du Minervois, a line of natural wellness products, based on aromachology (the study of the influence of scents on human beings). The majority of ingredients used come from our own naturally grown aromatic plants (grown without chemicals), or wild aromatic plants harvested in the garrigue. I also incorporate new natural energy methods into my healing practice.
My goal remains to help you feel good, while durably reducing or eliminating your physical and emotional pains using natural, simple, and efficient proven methods, which allow you to discover the magic powers that are within you.
I welcome you to my La Livinière office, Monday through Saturday, by appointment only.
©