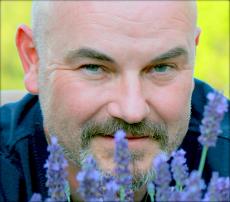 Chris Pinard - Certified Quantum Touch™ Energy Practitioner and Certified Energy Massage Therapist.
I am an energy practitioner, which means I channel Vital universal Energy, which I relay to people who come seek my help. This vital energy is provided by the ancestral energy (passed on at birth), the energy breathed from the air, from the water and from the food, the energy provided by universal vibrations (plants, trees, objects...).
I use my knowledge, my experiences, my protocols, which were transmitted to me different ways, and which I will utilize for the benefit of the individual I am providing my services to. Energy healing doesn't come from beliefs or the call of spirits, but is based on scientific quantum energy theories, and the fact that human beings are bioenergetic beings.
In 1995, I decide to study the biomechanics of the human body and become a Certified Fitness Trainer with ACE and ISSA. Soon after, I am contacted by multiple chiropractors to provide their patients with recovery programs using different targeted fitness therapy techniques and natural methods (Hickory, NC - USA). I then become a Certified Post-Rehab Conditioning Specialist in 1997 through the AAHFP, a Certified Chiropractic Assistant in 1999 through NCCCA and a Certified Fitness Therapist™ in 2000 through ISSA. I then work with six local Chiropractors, and keep my own practice.
I will soon join a 3 practitioner chiropractic office in Gastonia, NC- USA, and manage the rehab and therapeutic modalities department, while still keeping a private office. The opportunity to work with only one chiropractor primarily focused on natural methods have me move to a nearby city in 2009 (Lake Wylie, SC-USA) where I can focus on patients with sports injuries, chronic problems and other back issues.
Already using energy healing in my protocols for a few years, I become a Certified Quantum Touch® practitioner in 2009. In 2011, I start studying natural therapies and their effects on human beings.
I create the first official lavender farm in South Carolina(USA) and the only Botanical Garden dedicated to Mediterranean plants on the east coast of the United States which quickly becomes a national success with many articles published in the American press.
My wife and I put together a relaxation program combining energy healing, sylvotherapy and aromacology (among other therapies). We organize educational workshops, create a line of natural products with natural ingredients including the lavender essential oil we produce ourselves.
In the Minervois region since 2017, I create Zen Minervois to help people achieve wellness with the help of my natural methods, through my natural products, and with my wellness workshops.
In 2018, I become Certified in Energy Massage through IFraCE to add yet another tool to my wellness toolbox. I also create Terr@pie, an innovating method inspired by Grounding, Sylvotherapy, Energy Healing and Aromacology.
I see clients in my office of La Livinière, Monday through Saturday, by appointment only.